How to import your workforce with Gusto
To import your workforce in Jirav, you'll first need to have an employee roster from Gusto.
PART 1 - Retrieving (and configuring) Your Gusto Roster
This roster can be accessed and prepared for a Jirav import in a few easy steps.
Log into your Gusto account
Make sure you have your departments enabled. Departments can be found in 'teams'.
We have to map your teams to match your accounting, to enable this, make sure all your employees have a department designation or they will land in unassigned
Make sure you've entered emails for all employees ((we use this as a unique identifier in Jirav)
Navigate to reports - from reports, select 'employee summary'
Select 'summary' and pull as .csv
Open .csv and save as .xls
For a successful import, we need the following fields populated in your roster (all extra columns can be deleted).
​
a. First
b. Last
c. Team
d. Email (to act as a unique identifier)
e. Hire Date (MM/DD/YYY)
f. Termination date (if known/applicable)
g. Job Title
h. Compensation Amount (e.g. 80000, no characters)
i. Compensation unit (should be yearly)
​
​
PART 2 - Import to Jirav
After you've saved your Gusto workforce document:
Go to jirav.com and navigate to the Actuals page.
Import using the Gusto button.
​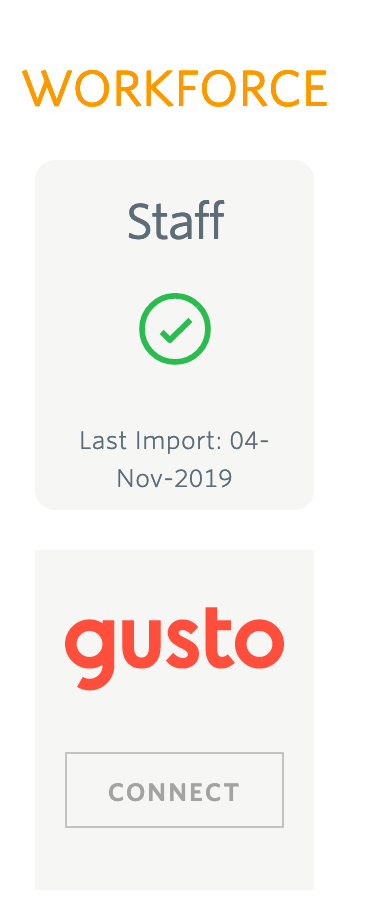 ​
Voila!
Next you will need to map your imported workforce departments to your accounting system departments, please refer to our Main Setting help article for an explanation of this step. If you do not compete this step then all the employees will reflect and Unassigned department.
To review the import:
Go to Reports> Workforce to see your staffing information.
​
​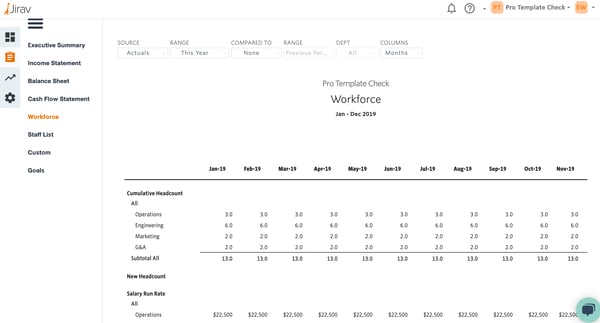 ​