Configure the system Cash account & create a Plan to kickoff your first planning cycle in Jirav
Now that you've completed the initial setup Jirav, it's time to kickoff your first planning process in Jirav by configuring the system cash account and creating a plan.
System Cash Definition
Prior to creating your first plan in Jirav, you should first define which account on the Balance Sheet that the system should use to forecast cash.
To configure the system cash account, go to Setup ⚙️ > Company > Plans > Assets > Cash and select the desired account.

You'll have the option to select any account from the Bank Account section of your Chart of Accounts.
This system cash account will then calculate as a result of the drivers of your forecast. For example, if there is a planned decrease in your Accounts Receivable balance, it is indicative of a customer paying an invoice, so you will see a resulting increase in cash.
Create a Plan
A plan represents a specific planning scenario. The plan can be a budget, forecast, baseline, best case scenario, etc., all of these are considered plans in Jirav. Your Jirav model will automatically include a Plan, but it should be reviewed and customized to fit your initial planning needs.
To edit your Plans, go to Plans > Select the ∨ next to the Plan to open the context menu > Manage Plans.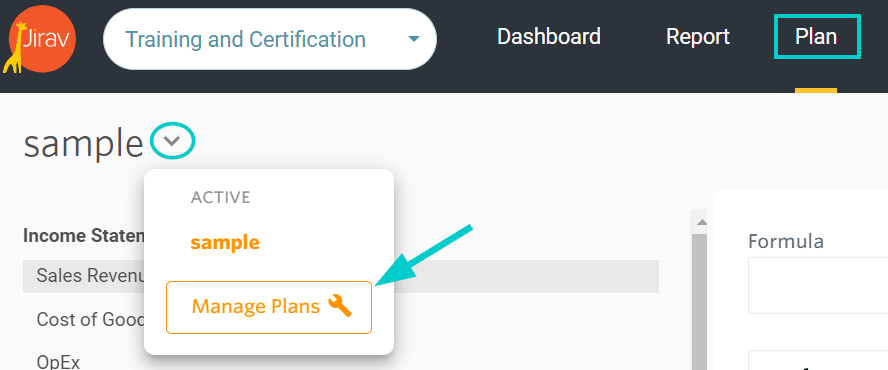 Did you know?
Each plan will have the same planning tables, e.g., Revenue, Staffing, OpEx etc., but the data within each table can differ across plan versions. As a result, plans enable you to quickly analyze different scenarios for your business. For example, if you create your Baseline Budget as a plan and you'd like to see what happens if you add 3 new staff to the plan, you would clone your Baseline Budget, add the 3 new staff to the Staffing table and then run reports to quickly see the financial impact of the given scenario.
You can have multiple active plans (scenarios) available any given time.
Portions of the plan can be shared with other users to make planning a collaborative process.
An active plan is a plan that is available in dashboards, reports & plans. An archived plan is in storage, but can be made active again if needed. A plan of record (POR) is a plan frozen as of the time it was made a POR.
Once you have accessed the Manage Plans window, adjust the available fields as needed and Save.
Name: Name of the Plan that will appear in Dashboards, Reports & Plans
Actuals Period: Period that will display Actuals from your accounting system
Forecast Period: Period that will be planned for in Jirav
Description: Optional free text field
Plan Details: System generated informational field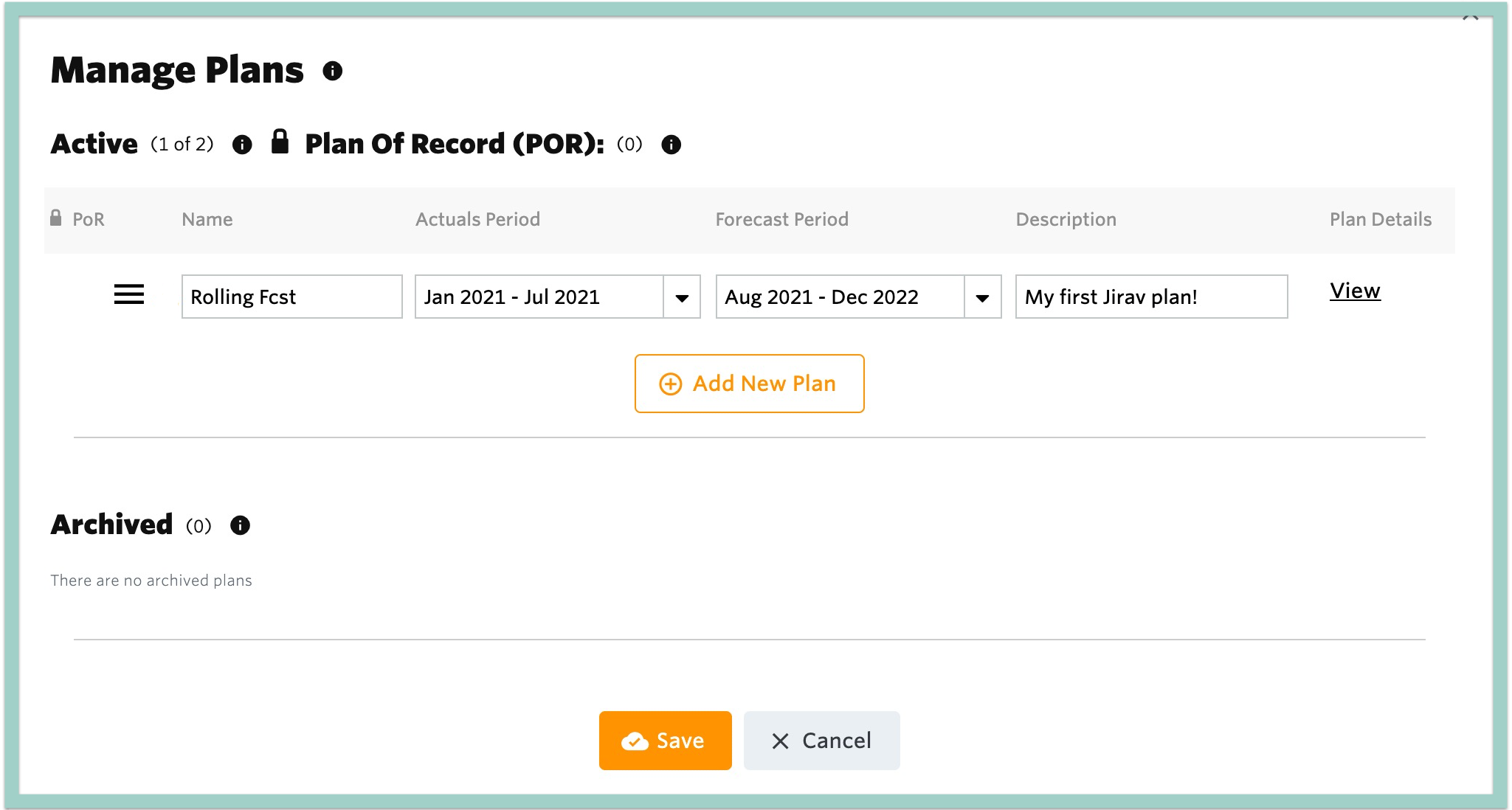 Helpful Hint: Use the Description field to note the date the plan was created and if it was cloned from another plan.