Follow these steps to add a company to your Partner Portal
For Jirav users who are also Partners with Administrative access, you have the ability to add Companies to your Partner Portal and invite users to the Company.
If you are a Jirav user and interested in becoming a Partner please visit our Partners page.
If you have exceeded the quantity of accounts provided to you as part of your Partner Agreement with Jirav you will get a warning informing you of this though the Jirav Account will still be created:

You can review your quantity of accounts by going to the gear Icon on the left menu bar of the Portal and scrolling to the bottom.

Step 1:
Once you have signed in you will be brought to the Company picker - below the "Continue" button you can select "Go to Partner Portal" or you can go from within the Jirav Application - here is an article on how to get to Partner Portal as well.​
​
The Jirav User who creates the account is the Jirav Account Admin, you have the ability to add more users through the Partner Portal per the instructions found in this help article. You can also log into the Jirav Account and add users per this help article.
Step 2:
This brings you to Partner Portal where you can add a company from the "Create Account" button.
​

This will then pop up a dialogue box to input:
Company name: this is what appears throughout the app, as well as in reports
Short name: this is what is seen in the website URL
Pro Tip: For the short name you are required to use lower case letters, numbers, one dash "-", underscore "_", or ampersand "&" with a maximum of 20 characters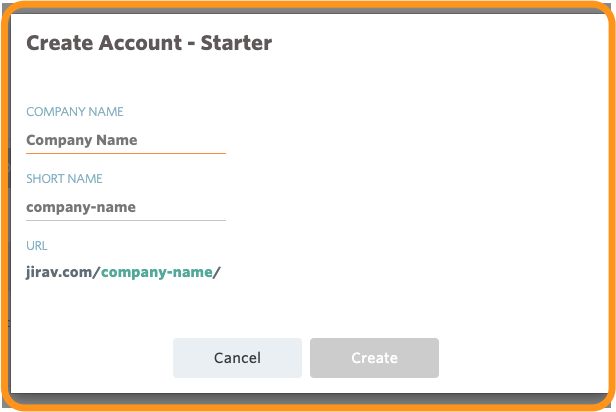 Step 3:
The final step is to select the type of Jirav account you would like for this company. After making the selection, Jirav builds the model into memory and you will be brought to the Actuals screen. To see further detail on the differences of the three account types and what is included please see the pricing page on our marketing website.
Pro Tip: Upon account creation you are automatically added as an Admin on the Company account, to add users please see our help article on User Management.
​
​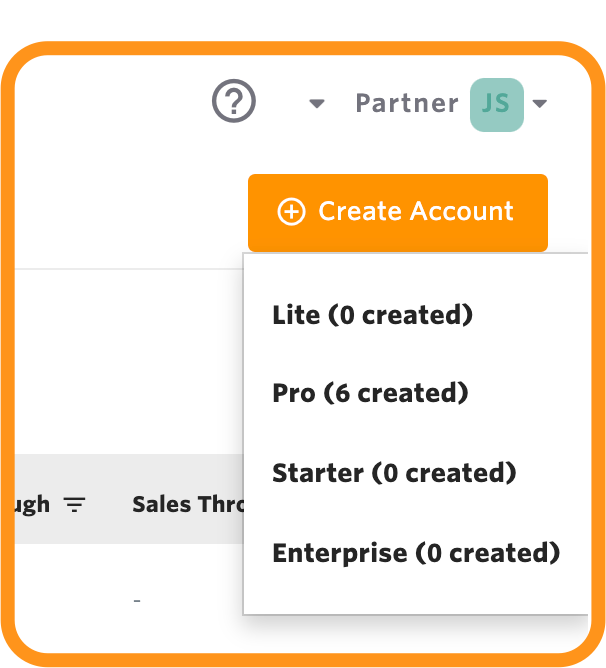 ​
​