Build your revenue forecast using quota bearing sales reps
Once you have built out your Products table and your Customer segments you can then leverage the Sales Build module within the Plans->Customers tab in Jirav.
​
​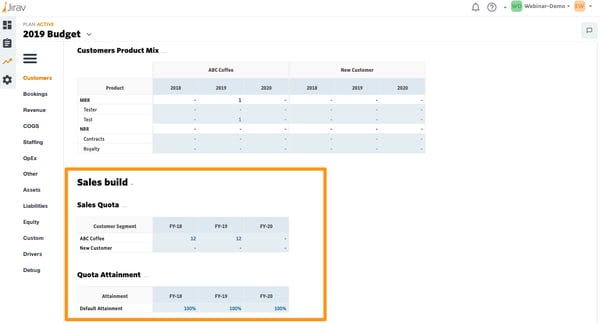 ​
In order to use the sales build you first need to indicate which staff are quota bearing; please refer to the Quota Bearing Staff help article for how to do this.
In order to complete the sales build follow these steps.
Step 1:
Determine the maximum goal for each customer segment by year each quota bearing staff is set to achieve.
​
​
From the screen shot above you can see that for each quota bearing staff they are set to achieve 120 Amazon Customers and 200 Direct Customers for FY2018, 200 Amazon and 600 Direct for FY2019, 500 Amazon and 1,200 Direct for FY2020
Step 2:
Indicate what you believe will be the attainment of the goal, think of this as a haircut to the sales quota.
​
​
From the screen shot above we have determined that the quota will be 80% attained; so for FY2018 96 Amazon Customers and 240 Direct Customers will be built into the revenue forecast and so on for FY2019 and FY2020.
Step 3:
Build a ramp up assumption, this gives you the ability to build in an assumption around the expected sales forecast for the first 12 months of a staffs start date.
​
​
​
From the screen shot above you can see that we expect no sales in the first month of a new hire ramping up to 100% in the sixth month.
Step 4:
Review the outputs of the revenue build by review the Sales Quota and Attainment tables from with the Plans->Customers module
​
The screen shot below is the first two tables which shows the full quota on an annual basis for a fully ramped and the first year of ramp by product.
​
​
The screen shot below is the second set up tables which reflects the impact of the haircut, if any, that was introduced within Step 2 above.
​
​
​
You can also see the revenue forecast by going to Plans->Bookings and reviewing the number of customers being forecasted into the model and the related Products that are being booked based on the Product mix that you assume as part of the Customer Build, refer to the Customer Segments help article Step 3.
​
​
​
​