Configure planning departments in Jirav and map them to your accounting & workforce data
Departments are used to plan, analyze and report on revenue & expenses within Jirav. Planning departments should be mapped to your accounting system as well as your workforce system. To configure & map your Department structure, go to Settings ⚙️> Departments.
There are 3 columns associated with Departments:
MASTER: These are the Departments available within Jirav Plans, Dashboards, and Reports.
ACCOUNTING*: These are the Departments from your accounting system. *This is the middle column and the header will reflect the name of your accounting system, e.g., QUICKBOOKS, XERO, NETSUITE, etc.
WORKFORCE: These are the Departments found in your workforce import.
These 3 columns allow you to create a mapping between the 3 systems; Jirav, Accounting, and Workforce. For example, if the Accounting System has a G&A Department and the Workforce System has an Admin Department, they can be mapped to a common Jirav Department of Admin
Configure MASTER Departments
The first step you should take in the Department screen is to configure the MASTER departments which will be available throughout your Jirav model.
To configure the MASTER Departments, select the 3 dots to the right of MASTER to open the context menu then choose one of the following
Add Department: Manually add a Department to Jirav
Add From Accounting System: Automatically generate new Departments based on what is in your Accounting System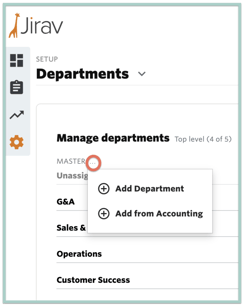 Did you know?
The segment representing Department from your accounting system will differ based on what accounting system you use as defined below.
QuickBooks (Online & Desktop): Class or Location
Xero: Tracking Category of your Choice
NetSuite: Department
Sage Intacct: Department
Map Accounting & Workforce Departments
Once the MASTER Departments are defined, map the values in the Unassigned row of the Accounting System & Workforce columns accordingly. This is done by clicking in the row & column where you'd like to establish the mapping, selecting the applicable Department, and then Saving.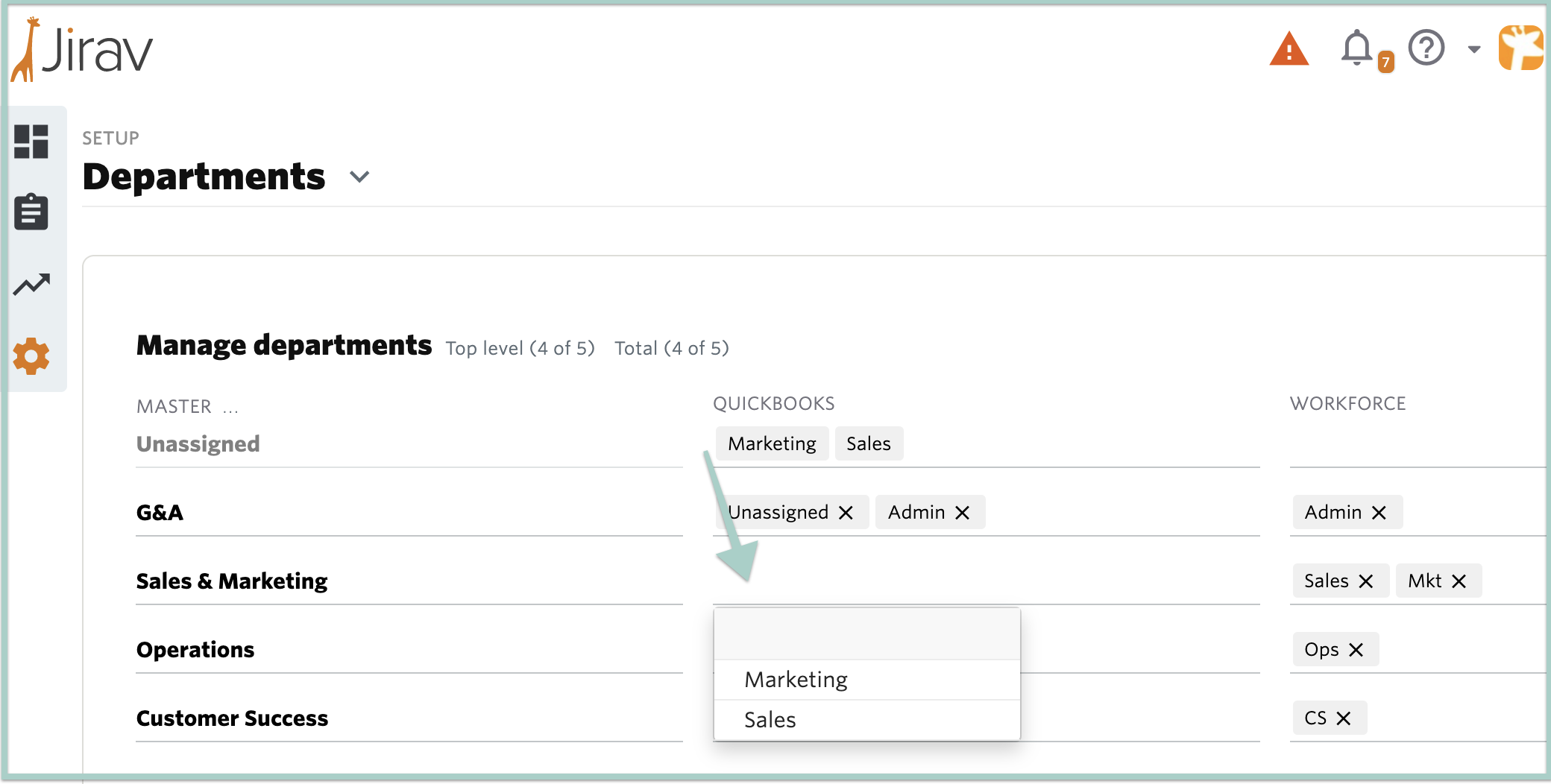 Adding, Creating Subs, Moving & Deleting Departments
If you need to edit your department structure, hover to the left of a MASTER Department row and click
Ellipsis to activate the context menu. This context menu allows you to perform a few different actions:
Add Department: Add a new Department - this is the same action that will occur when selecting Add Department from the MASTER context menu
Make Sub/Make Parent: Create a hierarchy within the Department structure
Be Aware: Sub Departments are only visible within the Staffing area of Jirav, i.e., you cannot plan revenue or operating expenses by sub-department
Move: Move a Department within the structure
Delete: Delete a Department
Be Aware: Deleting a Department will delete all plan data in all Plans unless it is a Plan of Record. Actuals and Workforce data will simply move to the Unassigned department.