Import your COA & account balances into Jirav Automatically
Your accounting data is the backbone of the Jirav Financial Model. The first step in setting this up is to import a chart of accounts and your accounting balances.
If you're using Xero for your accounting system, you can follow the guide below to start hooking up your data.
​
​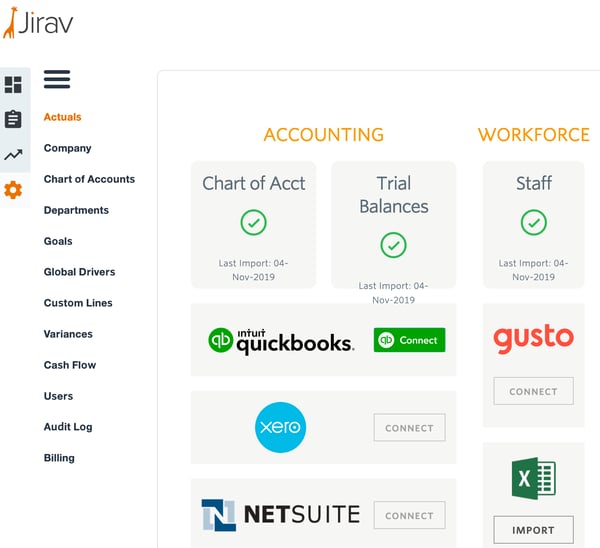 ​
Login to Jirav.com
Navigate to [Actuals] in the gear icon
Find the box for Xero and click on [Connect]
This should redirect you to the Xero website where you can enter your credentials
4. Select the date range for how far back you want from to import from,
Click on [Import]
If you're unsure of the range you should import, a period of at least one full fiscal year is good guideline.
5. Now the [Connect] button will be replaced with an [Import] button,
Click on [Import]
​
​
The Chart of Accounts and Trial Balances come in automatically! Check them out by going to your income statement and balance sheet in the reports section.
Tips
Make sure you have "Standard" access to the account you are trying to connect to. A "Read-Only" user won't work.
If you have multiple accounts with Xero, make sure to select the one you want to connect to Jirav.
​