Understand Departments in Jirav
Departments are used to plan, analyze, and report within Jirav. Use departments in planning to build up a plan at the department level that automatically rolls up to the total company. Breakdown data by department in reports & dashboards for a deeper analysis and meaningful actual vs budget variances.
To manage your Jirav departments, go to Settings ⚙️> Departments.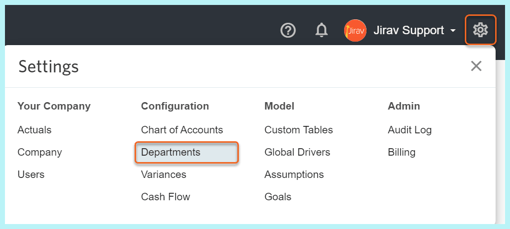 There are 3 columns associated with Departments:
MASTER: These are the Departments available within Jirav Plans, Dashboards, and Reports.
ACCOUNTING*: These are the Departments from your accounting system. *This is the middle column and the header will reflect the name of your accounting system, e.g., QUICKBOOKS, XERO, NETSUITE, etc.
WORKFORCE: These are the Departments found in your workforce import.

These 3 columns allow you to create a mapping between the 3 systems; Jirav, Accounting, and Workforce. For example, if the Accounting System has a G&A Department and the Workforce System has an Admin Department, they can be mapped to a common Jirav Department of Admin
Click the
Ellipsis left of a Master Department line to access the context menu.

Helpful Hints
Actuals will appear as "Unassigned" until the mapping is completed. Click here to learn how to create & map departments.
Jirav accounts connected to Xero can choose the tracking category of their choice to map to the Jirav Department. Select the . . . Ellipsis to the right of the XERO column to choose the desired Xero tracking category. Click here to learn more about tracking categories & Jirav.
Jirav accounts connected to a Quickbooks account with multiple dimensions enabled will be prompted to select one during the initial import. Click here to learn where you can change the selected dimension.
In some Jirav accounts you have the option to add Sub Departments. Sub Departments are only visible in the Staffing module. Planning or reporting on any other data at the sub-department

level is not currently supported.

You can automatically create all Departments in Jirav to match your accounting system by selecting the . . . Ellipsis to the right of the MASTER column and choosing + Add from Accounting.