Keep your reports and dashboards up to date by automatically referencing your accounting close month.
To display the most up-to-date data in reports and dashboards, configure them to show a dynamic, relative date range. Choose between a calendar month or a close month as the reference point. Selecting the close month option ensures that users only see actuals for the latest closed month, even if it is a new calendar month. For example, on November 1st, reports and dashboards will not automatically display October actuals unless it has been closed.
Jirav can either read the close month field in your accounting system set during the monthly accounting close process or you can set it manually in Jirav.
This article includes an overview of the following areas related to Close Month:
Setting the Close Month
To set the Close Month, take the following steps:
Navigate to Settings ⚙️ > Company
Locate the CLOSE MONTH field in the Accounting section
Choose one of the following:

Accounting System Close Month

Inherited from your accounting system
The name of the selection box will depend on the accounting system you are using, i.e., Quickbooks, NetSuite, Intacct or Xero
The Year and Month from the accounting system will display as read only
Specific Month

Set manually within Jirav
The Year and Month can be adjusted as needed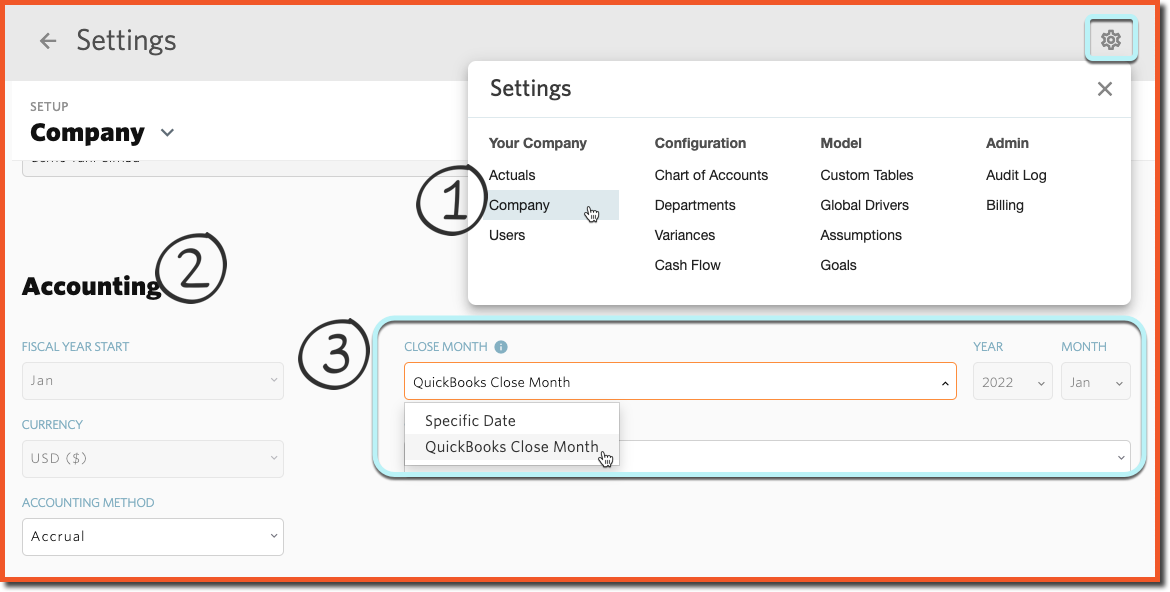 Helpful Hints:
Jirav cannot make any changes to your accounting system. Therefore, any modifications made to the manually set close month in Jirav will not impact your accounting system.
If there is no close date set in the accounting system, the Year and Month will default to the current calendar month.
If the close month is not available in the accounting system, the only option available will be to manually select a Year and Month.
Dashboard Tiles and Close Month
There are two ways to reference Close Month in Dashboard Tiles:
RANGE
Range determines what time periods are displayed within the tile. Choose from references relative to Calendar or Close Month.

SHOW ACTUALS UNTIL
Show Actuals Until determines if all actuals that have been imported should be displayed or just actuals up until the close month. This setting is best to use when a Tile is showing Budget vs Actual data as it prevents users from seeing Actual data from incomplete months.
For example, in the screenshots below there are Actuals imported to August 2023, but the close month is July 2023. Show Actuals Until Max displays August 2023 Actuals whereas Show Actuals Until Close Month only displays the Actuals through July 2023.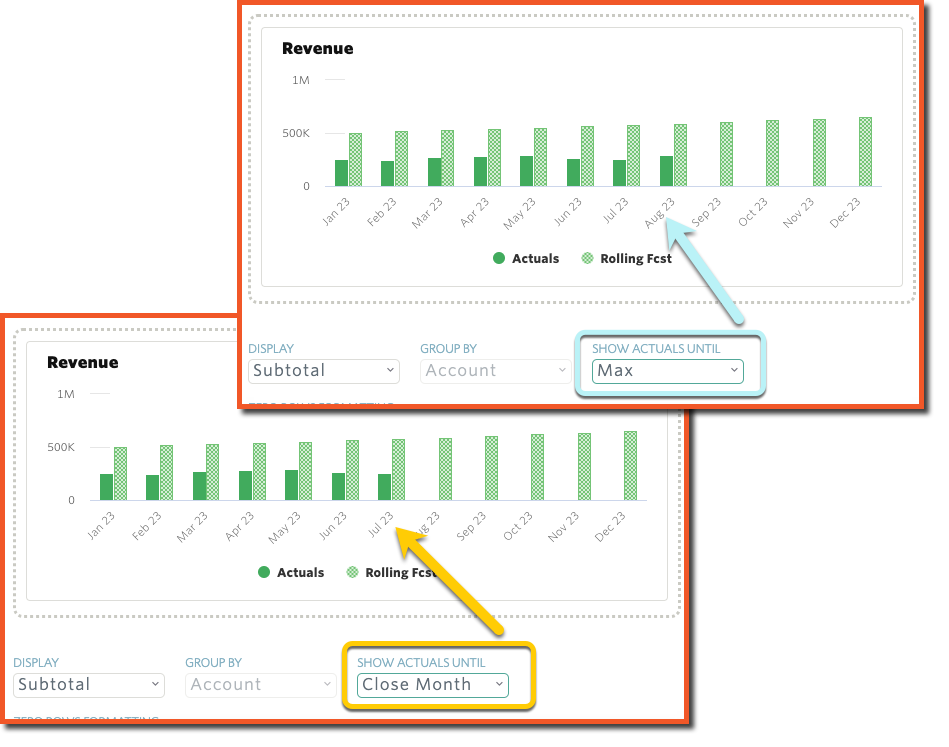 Reports and Close Month
Set Reports to show data relative to the Close Month:
Report Period
Report Period determines what time periods are displayed within the tile. Choose from references relative to Calendar or Close Month.