Set Jirav to use your accounting system close month or set your own close month to update reports within Jirav automatically
As part of your monthly close process you are likely closing the month in your accounting system. Jirav as the ability to read this close month from the accounting system and automatically roll forward dashboard tiles. This removes the administration of having to go into the tiles and update them manually.

Here is a help article on how to set your Dashboard Tiles to use the close month.
Here is a step by step guide for how to use the Close month in your Jirav Company file.
Please note that Jirav does not have the ability to make any changes to your accounting system so any changes to the close month on the Jirav Company file does not impact your accounting system.
Step 1:
Go to the setup gear icon on the left side of the navigation.


Step 2:
Within the "Company Setup" is the "Close Month"selection box.
Depending on the accounting system you are using will be the name of that system; for example you could be using Netsuite so the selection would say "Netsuite Close Month"
In order to update Jirav to the most recent close month from your accounting system you will need to import actuals from your financial system from within the Actuals Module.
Pro Tip: If the close month is not set for any period in the accounting system then the only option is a custom date - please see step 3 below.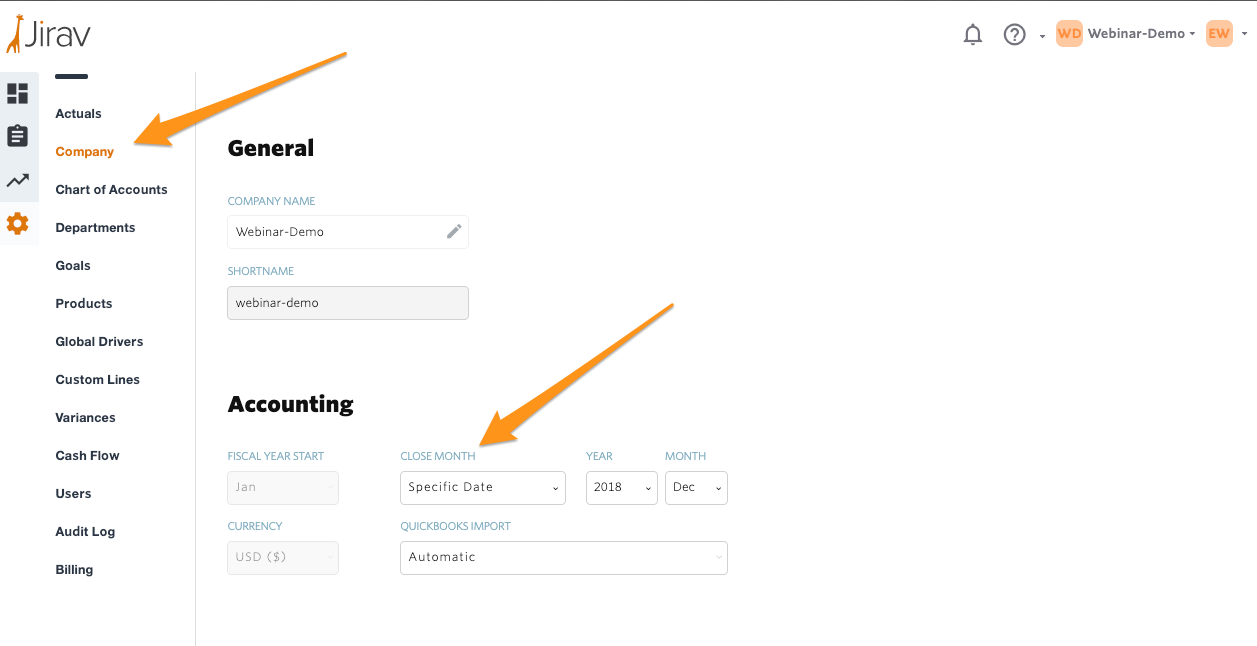 Step 3:
For times when you would like to override the accounting system set close month you can set a specific date by selecting the dropdown menu in the "Close Month"selection box and setting the year and month to a specific date.
Pro Tip: If there is no close date set in the accounting system the default value is the Jirav Current Month.