Organize Tiles on Dashboards to visually present data using a variety of charts and tables.
Dashboards are powerful tools that enable you to effectively communicate information and insights using a wide range of visually captivating and customizable charts and tables referred to as tiles. Whether you need to showcase sales figures, track project progress, or visualize financial data, dashboards provide a visually appealing and organized way to present data, making it easy for users to understand and analyze information at a glance.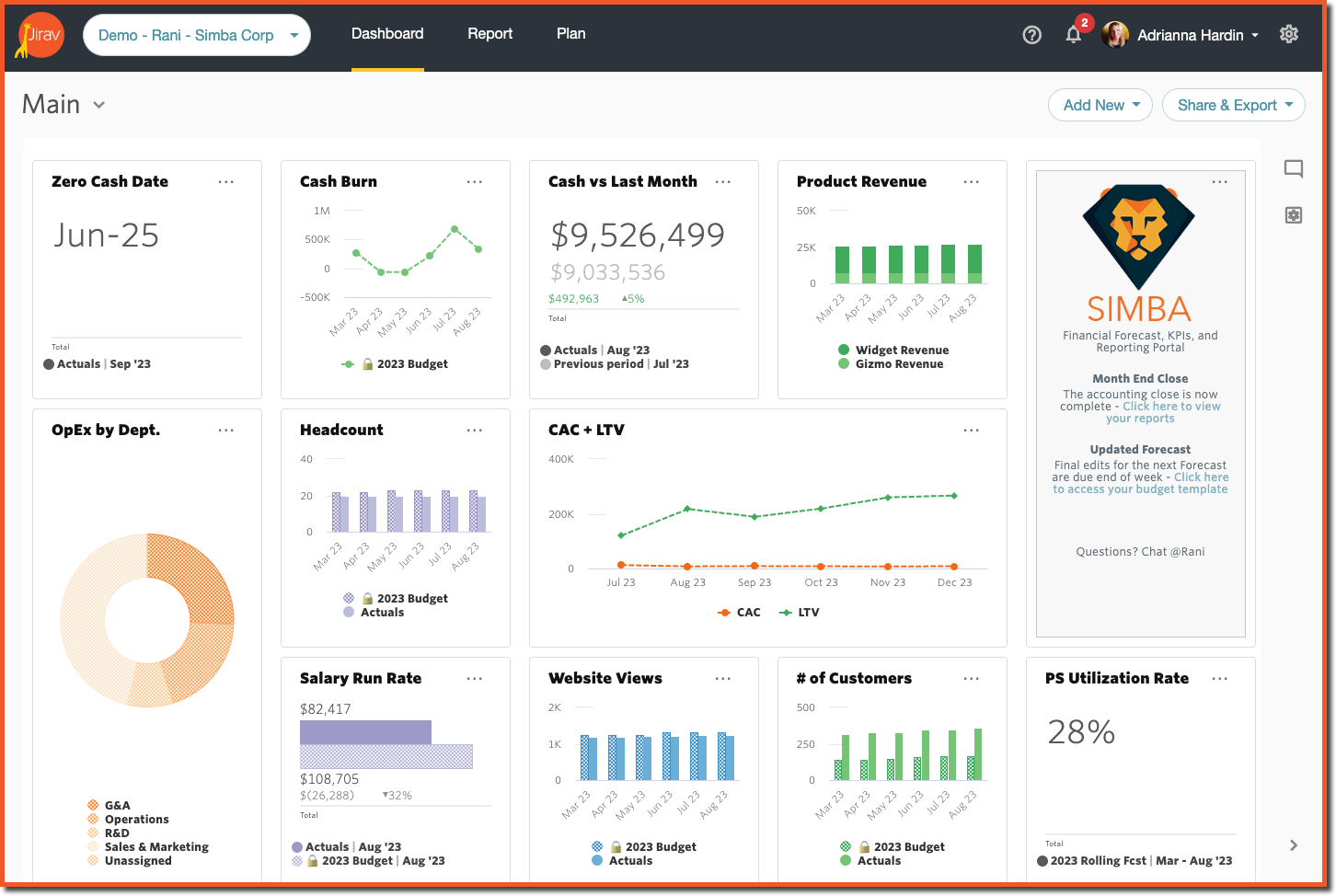 Utilize Dashboards & Tiles to customize your views, then share the results.
Dashboards
Customize your dashboards to create visually appealing representations of relevant data for different teams and departments. For instance, you could design a Company Overview Dashboard that showcases key performance indicators like profitability margins. Additionally, you could create a department-specific Marketing dashboard, which includes metrics such as Budget vs Actuals, Ad Spend, MQLs, and SQLs.
To view existing dashboards or to add a new dashboard, go to Dashboard > Select the ∨ next to the currently selected dashboard name to open the context menu and select Manage Dashboards.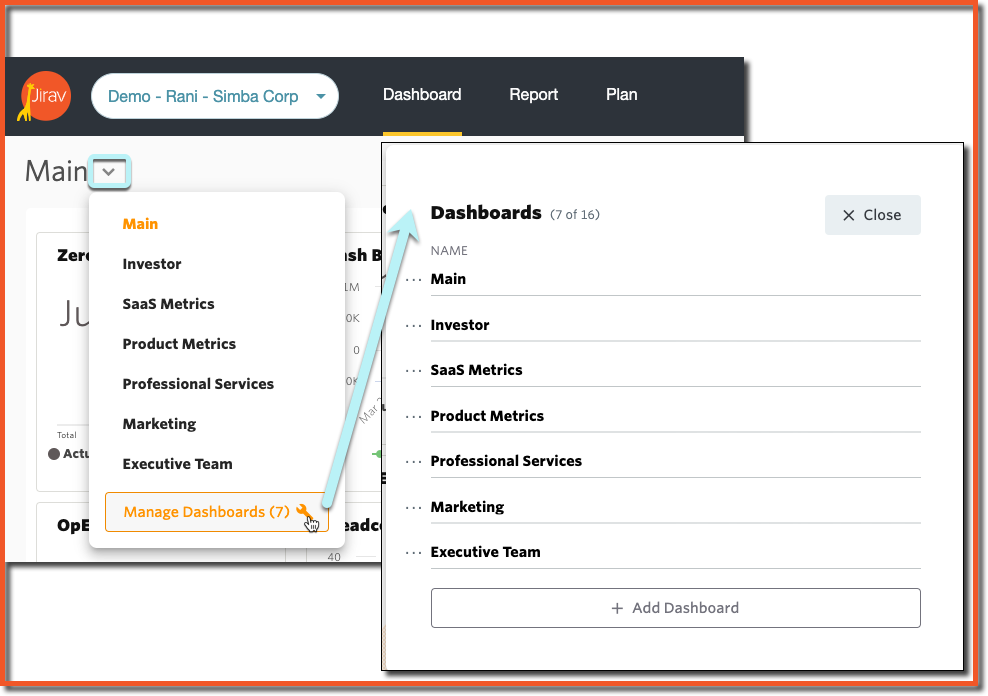 Helpful Hints:
Customize your dashboards by creating separate ones for different audiences. This allows you to easily and effectively share information with the right people.
A Dashboard can be included as a section within a Report Template.
Tiles
Tiles in the dashboard area present data in an appealing format. You can use various types of tiles, including Column Tiles, Line Chart Tiles, Bar Tiles, Numerical Tiles, Table Tiles, Stacked Bar Tiles, Text Tiles, Income Statement Tiles, Balance Sheet Tiles, and Pie Chart Tiles to create interactive and visually dynamic dashboards that cater specifically to your needs.
​There are seven different standard tile types, Column Tile, Line Chart Tile, Bar Tile, Numerical Tile, Table Tile, Stacked Bar Tile, Pie Chart Tile. Additionally, there are the following special tiles, Income Statement Tile, Balance Sheet Tile, Text Tile.
Tiles can either be updated individually or in bulk.
Individual Tile Updates
To add a new tile to a dashboard, click on the "Add New" button located at the top right corner of the dashboard.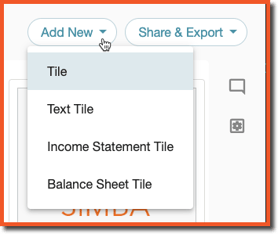 Next, follow the prompt to name the tile, select the data series source, periodic, and range that should be displayed in the tile, and choose one of the seven standard tile types that best fits your needs.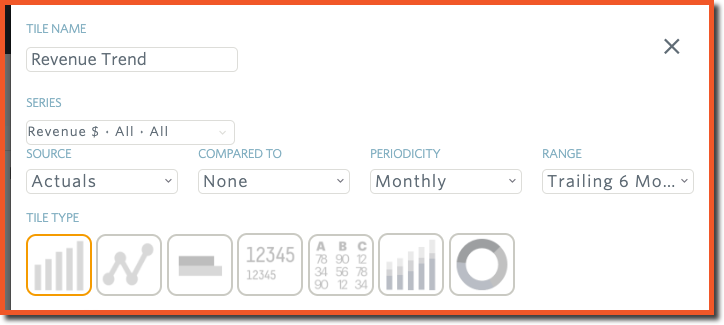 To move a tile, simply drag and drop it to the new location. Other tiles will automatically re-arrange to fill in any gaps created by the move.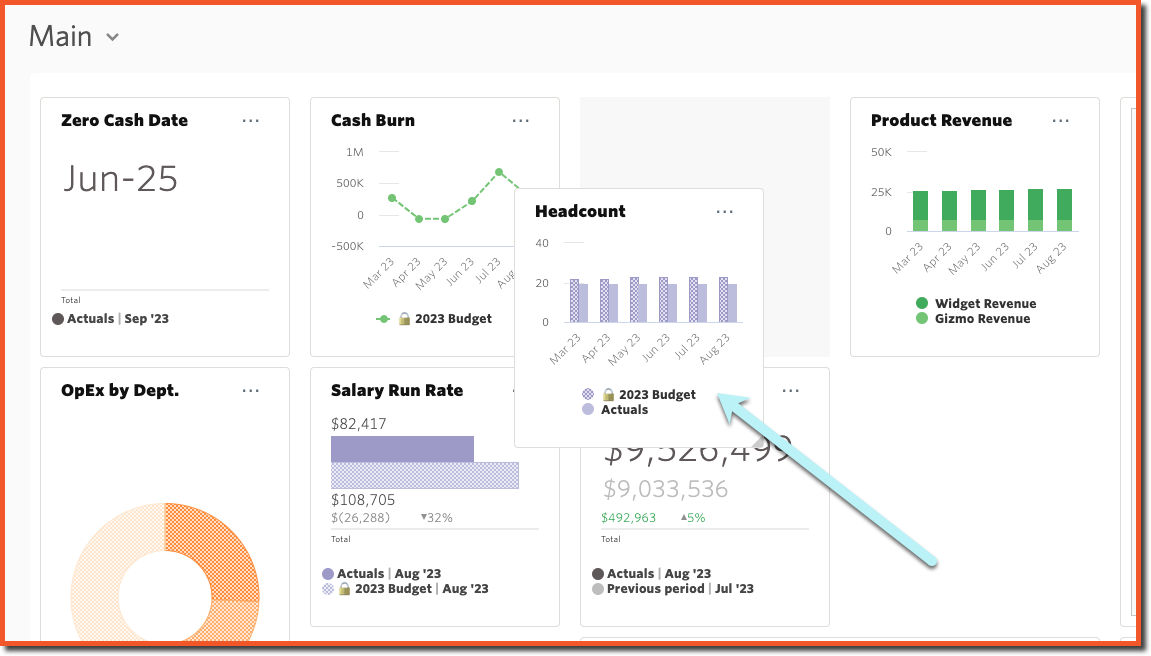 To resize a tile, simply click the bottom right corner of the tile and drag it outwards or inwards to resize. Other tiles will automatically re-arrange to fill in any gaps created by the resize.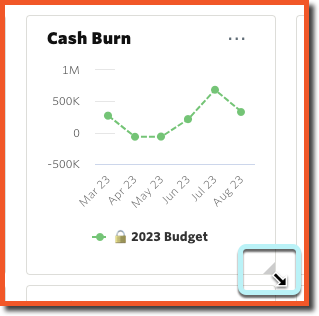 Select the ellipsis (. . .) from the top right of the desired tile to access a context menu specific to the individual tile to edit, clone, delete, export, or view the tile full screen.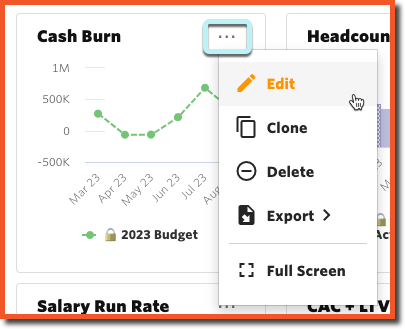 Edit: Populate the Tile Name and then use the drop-down selections to choose what data will be pulled into the tile.
Clone: Creates an exact replica of an existing tile at a specific point in time. Once created, the cloned tile becomes independent from the original tile, meaning any changes made to the original tile will not affect the cloned tile or vice versa.
Delete: Permanently remove the tile from the dashboard. This action cannot be undone. However, the data that the tile was displaying still exists in the database and is not tied to the individual tile. So, you can easily create a new tile to display the same data.
Export: Export individual tiles to embed into your presentations or external documents

as either a PNG image (.png), PDF document (.pdf), SVG image (.svg), or Comma Separated Values (.csv) format.
Bulk Tile Updates
To make bulk edits to your dashboard tiles, select the Edit Dashboard gear icon on the right side of the screen.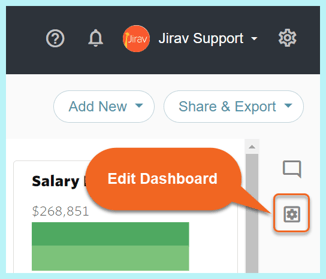 The Edit Dashboard screen enables quick updating to multiple tiles, including the Source, the Compared to Source, Periodicity, and Range.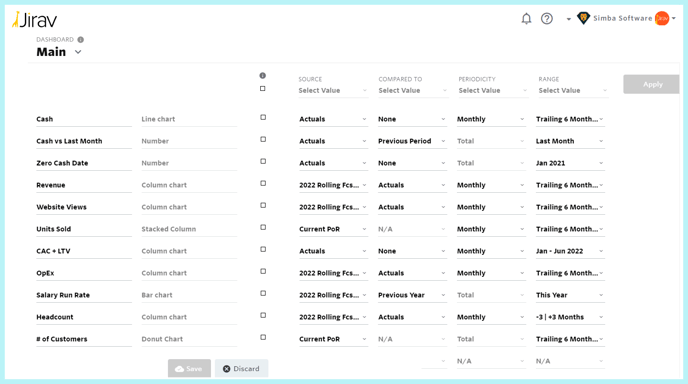 Select the top-most checkbox to select all tiles to update, or select individual checkboxes to update specific tiles. The column-level settings in the first will be activated. In the example below, the Current POR was selected for the Compared to Source and the Apply button is then activated.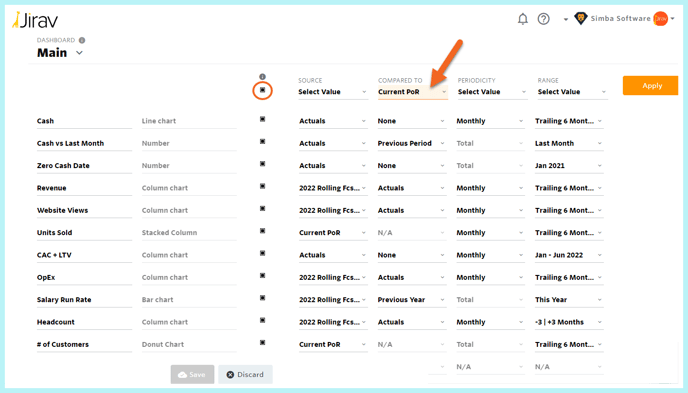 After selecting Apply, the tiles in which the changes will be saved are highlighted. Additional changes can be made, or select Save to save the changes and go back to the Dashboard.
Note that fields that are not available to update through the Edit Dashboard screen are marked as N/A. Dashboard tiles cannot be added, moved, or deleted from the Edit Dashboard screen.
Sharing
Sharing a Dashboard grants users access to live data, allowing them to stay informed with the latest information and empowering them to make informed decisions based on the most recent insights.
Dashboards can be shared to individual users or to groups of users.
To share your Dashboard, simply select the "Share & Export" button in the upper-right-hand corner and select the user or group of users you'd like to share the Dashboard with. Optionally include a message. This action will send an email to the user(s) selected with a link to access the Dashboard. The user(s) will only be able to see what you have explicitly shared with them.
Alternatively, a dashboard can be exported to PDF and shared outside of Jirav.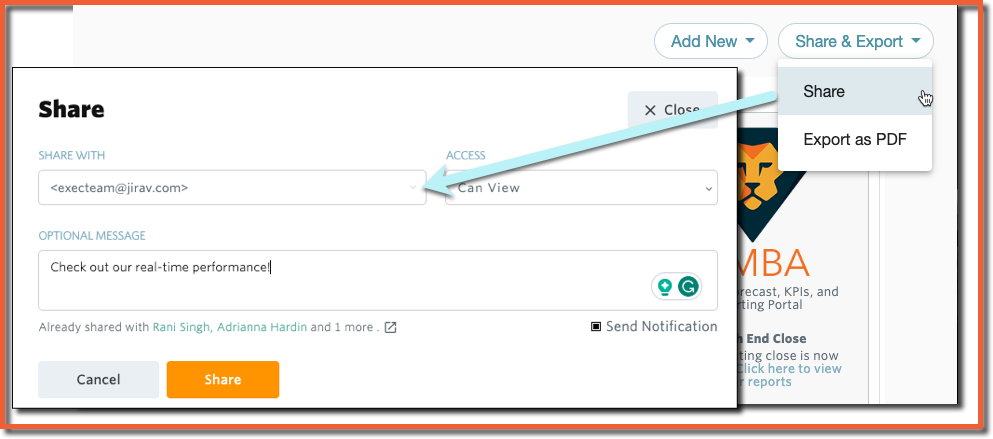 Helpful Hint:
Set the range on tiles to a dynamic month so that they always display the latest, greatest data. For example, if you have set the range to "Close Month", you can ensure users are only seeing actuals for the latest closed month.