Summarize the key elements of your business for stakeholders
The Executive Summary defaults to display a summary graph, cash metrics, an Income Statement summary and headcount by department. This default data shows YTD Actuals for the current year by month. You may also wish to display additional key metrics for your business in addition to the cash position, for example the rollforward of monthly recurring revenue (MRR)*. Additionally, you may wish to display data from a different Source or time period.
To update the Executive Summary report to display these additional metrics for the current plan by quarter, follow the steps below.
Select the Executive Summary report from the Training Template
Select Edit Columns

Verify the Report Period is set to the time frame you'd like to report on, e.g., This Year
Adjust the Report Columns to show the granularity you'd like to see for your analysis, e.g., Quarters
Adjust the Column #1 Source to the current plan, e.g., Budget

Select Apply - the report should now show data for the plan by quarter
Select Edit Rows

Select + Add Section under the Cash section

Name the Section MRR Rollforward

Select + New Line in the MRR Rollforward section

Name the new line MRR Rollforward

Edit the Series by selecting IS - Revenue - All - All under to open the UA Picker, select MRR Rollforward from the Subscription Revenue Custom Table, set the Depth to Children up to 1st Level and the Subtotal to Hide and Save

Select Apply
Save Changes
After completing these steps, you should see the data for the plan by quarter and the MRR Rollforward highlighted at the top of the report under the Cash section.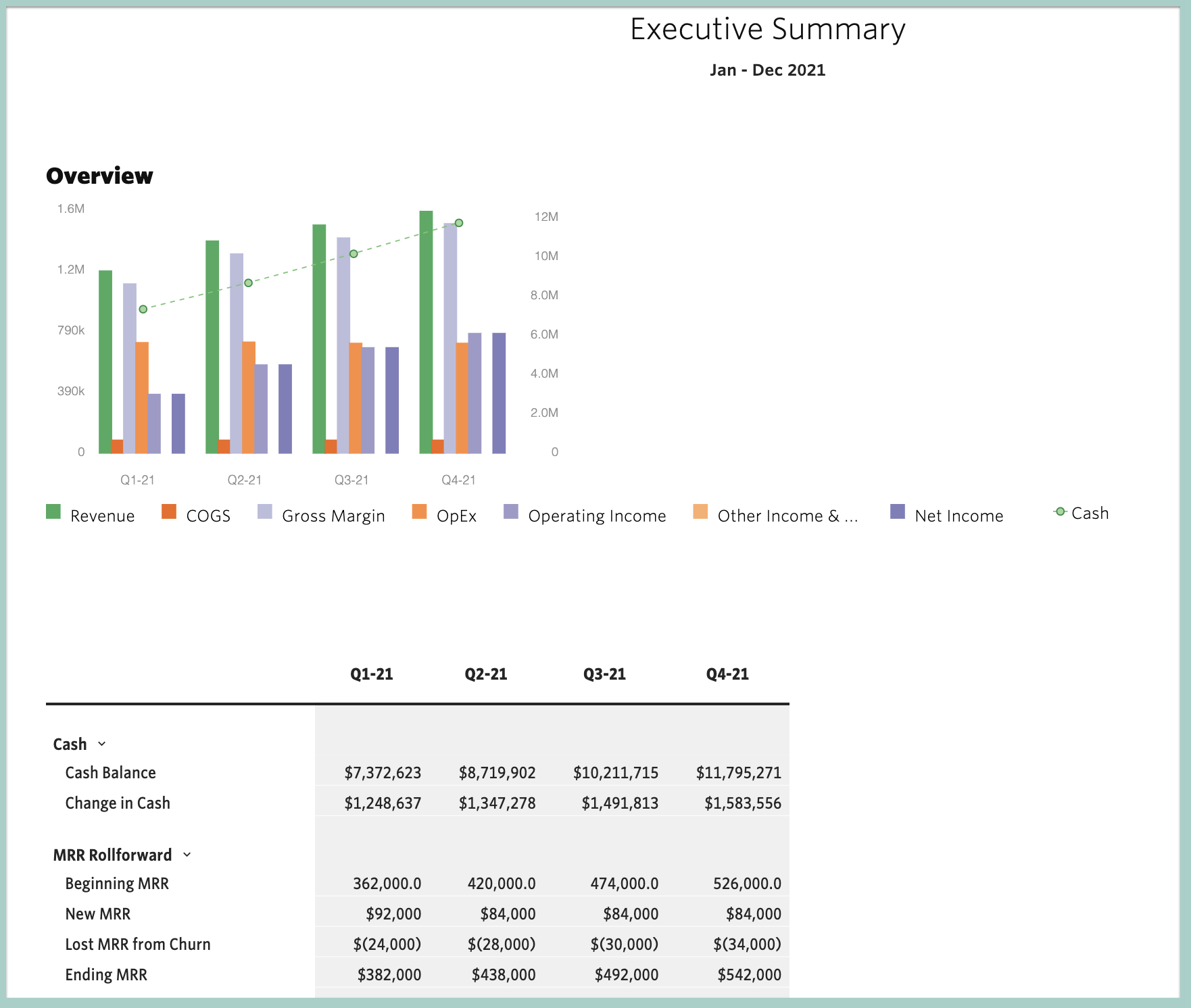 *Assumes that Create a Simple Revenue Forecast has been completed.