Set up your reports to display the periods, data, and format desired
Reports allow you to customize your report to meet your exact needs. You can choose the time ranges, data elements, sources and format that best suits your preferences. This article contains a detailed overview of each area of customization within reports.
​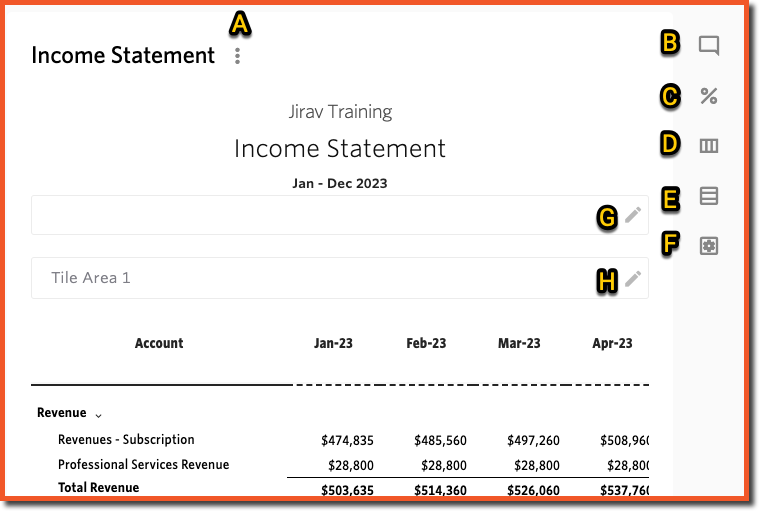 ​
Refresh

the report on the screen to reflect any changes made to the underlying data. This is a convenient feature as it saves time compared to refreshing the entire browser window. Additionally, using this button does not erase any settings you have not yet saved.

Export the report you are viewing to Excel or Google Sheet.
Expand and Collapse report rows in bulk.
Reset Row Expansion to the initial row settings.
Auto Size Columns to fit the data in the report.

Make a comment at the report level

Modify font style, font color and colors
Format decimals, display of negatives, magnitude, favorable/unfavorable variances, symbol placement and error display

Set the report period using ranges
Set the report columns to show months, quarters, years, or totals.
Filter by department when applicable
Enable a notes column for line level notes
Choose up to 3 sources of data
Enable variance calculations

Add, remove & hide rows from the report
The type of report section added will determine the rows of the report - the selections available in Edit Rows will vary based on the report section type

Edit report elements in bulk
Configure footers for PDF exports with page numbers, text content and sources

Add a text commentary to the financial results displayed in the report.
Add tiles from the Dashboard area to the report to visually represent key data.